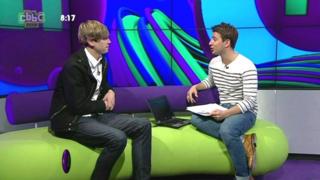 The Voice's Adam speaks to NR
The Voice UK star Adam, who was voted out on Sunday, has told Ricky about his experiences on the show.
Speaking to Newsround on Monday morning, the Team Tom singer told Ricky what it had been like to be on The Voice.
Although he was one of four acts packing his bags, he said the experience was special.
He paid tribute to his mentor Tom Jones, saying it was "a privilege and an honour" to work with him.