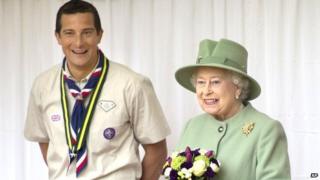 AP
TV adventurer Bear Grylls has said he's proud of the Scouts who volunteer to help their communities.
In Scout Community Week, some of the 525,000 Scouts around the country are planning to perform one task to help the places where they live.
The work includes removing graffiti, decorating care homes, planting trees, and building habitats for rare bees.
Grylls, who is Chief Scout, said: "I know they will have a really positive impact in their local areas."
He added: "Working together we're going to make a huge difference to communities up and down the country."
Bob-a-Job Week - a brief history
The Scouts used to be famous for doing what they called Bob-a-Job Week.
The idea started way back in 1949. Scouts would call door-to-door offering to do jobs to help their neighbours.
In return, they'd be offered a shilling (a 'bob') - which is about five pence - which they would give to charity.
But it was stopped in 1992 because of fears for children's safety.
Now, the new scheme is up and running, with groups of Scouts doing jobs instead of on their own.