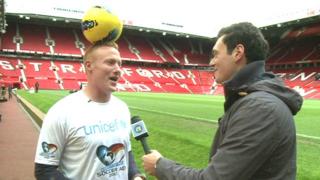 Keepy-uppy world record smashed
Football freestyler Dan Magness has broken a world record after doing keepy-uppys all the way from London to Manchester!
He now holds the record for the 'longest distance travelled whilst juggling a football'.
Dan walked 200 miles from Wembley Stadium to Old Trafford while keeping a ball in the air - and raising bags of cash for kids' charity Unicef.
It's estimated he did half a million keepy-uppys over his 10-day journey!
Joe was there to meet Dan at Old Trafford as he finished his amazing challenge.