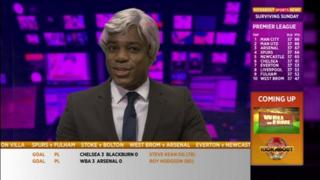 Kickabout News - Surviving Sunday
The Kickabout Sports News team is super excited as the final whistle of the 2011-12 Premier League season approaches.
Bolton and QPR are fighting like beavers for top flight survival.
And we still don't know which Manchester team will take the league title.
Watch Jeff Voetbals and his team cover 'Surviving Sunday' the only way they can...
Tune in to MOTD Kickabout - every Saturday morning 7.40am on the CBBC Channel and 11.40am on CBBC on BBC Two.