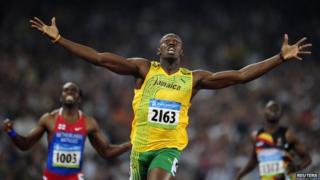 Reuters
Almost a million more tickets for this summer's Olympic Games will go on sale today.
Around 900,000 tickets for the biggest event of the year will go to people who applied for them when they were first released but missed out.
Organisers admit though that not many of them are for the really popular events.
Only 5,000 of the tickets are for the chance to see Usain Bolt in the mens 100m final.
So far there have been two chances to get hold of tickets for the games but because so many people wanted them, some people missed out on getting any.
There are about 20,000 people who are empty handed from the ticket ballots - and it's these people who will be invited to buy tickets this time.
Organisers think they will snap up the last tickets pretty quickly, especially for really popular events like the athletics, cycling and swimming.
There are though, a small number of tickets available for the opening and closing ceremonies.
Any tickets that aren't bought by the 20,000 people who are offered them today will go on sale to everyone on 23 May.
On 17 May special tickets will go on sale to get into the Olympic park during the games but not to watch any of the sports.
The people organising the Games hope these 70,000 tickets will give the people who missed out on tickets for events the chance to take part in the Olympics.