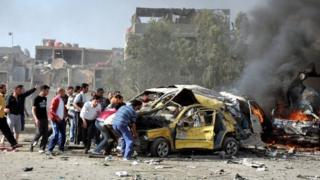 AFP
Two car bombs in the capital of Syria have killed at least 50 people and injuring many more.
Damascus has been the target of several explosions in past months but these are the biggest yet.
There has been a year of fighting in the Middle Eastern country between government troops and people who are unhappy with how things are being run.
Last month, the United Nations persuaded the two sides to agree to a ceasefire but that hasn't been working.
The blasts caused lots of damage to buildings and made huge craters in the road.
Both sides are blaming each other for the attacks.