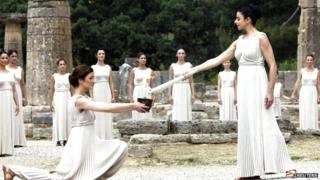 Reuters
The Olympic torch has been lit during a traditional ceremony in Olympia, Greece.
An actress dressed as a "high priestess" lit the flame by directing the sun's rays onto the torch using a special mirror.
The lit torch will stay in Greece for a week before being flown to the UK on 18 May to begin the 70-day torch relay.
The flame is lit in Greece before every Olympic Games and only put out at the closing ceremony.