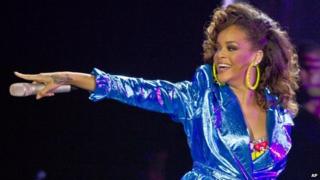 AP
Should music DVDs have age ratings like movies do? That's the question the government's asking.
Some experts and parents are worried that performances by some stars like Rihanna and Lady Gaga are too grown-up for kids.
They think that age ratings would give parents better guidance on what is and isn't suitable for their children.
The government's finding out what people think about the issue before deciding whether to change the rules.
This follows a report last year into the pressures of growing up too quickly. It called for music videos to have age ratings.