Around 1,600 of the country's best young athletes have been taking part in the School Games at London's Olympic Park.
They've been competing in 12 different sports - including athletics, fencing and wheelchair basketball.
The event is also a final chance to test out the Olympic venues before London 2012 begins.
It can be a springboard to further sporting success - Paralympic champion Ellie Simmonds took part as a kid!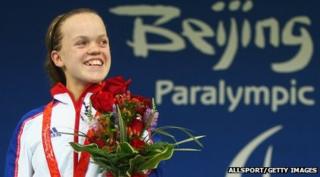 Allsport/getty images
The swimmer said: "It was a great experience for me. It definitely set me up for Beijing [Olympics].
"It was the first place I'd been away from home. I was only 11 or so, going to a multisporting event which I'd never had the opportunity to go for."
The annual School Games is the biggest multi-sport event for school-age athletes.
Fencer Daniel Ming said: "The whole set-up of it, the whole atmosphere - it's really unique and it recreates something that you might experience at a world championships or an Olympic event."