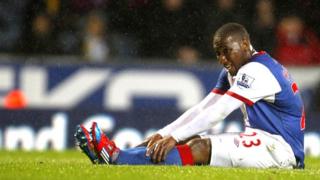 PA
Premier League team Blackburn Rovers have been relegated from the Premier League after a 1-0 defeat to Wigan.
In the pouring rain, Blackburn held on for 86 minutes knowing that anything except a win would send them down for the first time in 11 years.
But Wigan's only goal came in the last minutes of the game - a set-piece finished off by Antolin Alcaraz.
It left manager Steve Kean standing soaking wet on the touchline and players feeling devastated.
Wigan's victory was the latest in an amazing comeback which has seen them lift from the bottom of the table to 15th place.
It is Wigan's sixth victory in eight games, and keeps them safe in the Premier League.
Chicken Protest
But Blackburn, once Premier League champions, will now have to spend at least a year in the Championship.
Fans have spent months protesting at the way the club has been run by manager Steve Kean and the owners, a chicken company called Venky's.
The fans even managed to release a live chicken onto the pitch.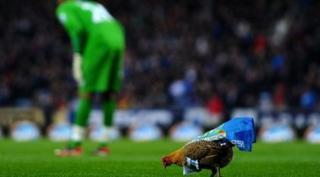 Getty Images
But Steve Kean said "I am not going to walk away."
He added "I will sit down with the owners and discuss a plan on how to assemble a squad to help us bounce back up straight away."