Prince Harry has been given a prize in America for his charity work with wounded servicemen and women.
He is a supporter of charities which help the armed forces, and in 2008 he worked in Afghanistan with the British army.
The prince gave a speech at Monday night's ceremony in Washington.
He paid tribute to "selfless" wounded veterans, saying: "They have paid a terrible price to keep us safe and free."
He was given the special award by American politician Colin Powell, who used to be in charge of US armed forces.
Prince Harry also accepted the award on behalf of his brother Prince William, who does similar charity work.
While in America, he met a team of injured UK servicemen who took part in a Paralympic-style event called the Warrior Games.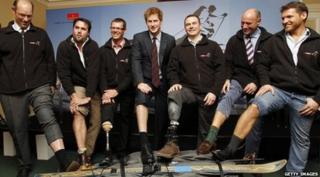 Getty Images