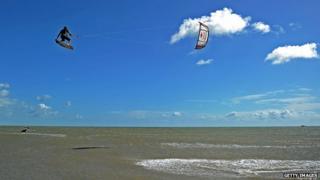 Getty Images
Kiteboarding will be introduced to the 2016 Rio Olympics in Brazil, replacing windsurfing after London 2012.
The plan by the Internation Sailing Federation (ISAF) has come as a surprise to those preparing for the games.
John Derbyshire, who represents windsurfers, said the decision would be "a huge blow to the windsurfing community."
An online petition has been set up to try to keep it in the Olympics.
The difference between the two sports is simple: windsurfers use a sail attached to a board to move across the water, but kiteboarders use a kite instead of a sail.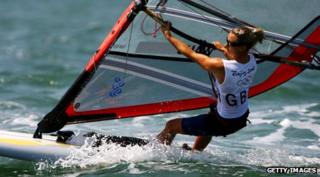 Getty Images
Britain's Bryony Shaw, who won windsurfing bronze in Beijing at the 2008 Olympics, said: "Windsurfing is me... I am windsurfing!"
But she added: "New discipline for Rio... New challenge...!"
Fellow windsurfer Nick Dempsey, who was fourth in the men's event four years ago, said: "My heart goes out to all the aspiring champions and kids with dreams of windsurfing at the Olympics."