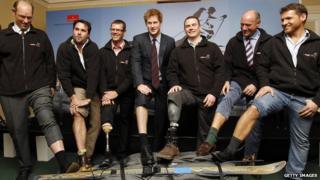 Getty Images
Prince Harry is receiving a prize in America for all his charity work with wounded soldiers.
In 2010, the prince travelled to the North Pole with injured servicemen.
As part of his latest trip to America, he's meeting a team of injured UK servicemen who took part in a Paralympic-style event called the Warrior Games.
He's also accepting the award on behalf of his brother Prince William, who does similar charity work.