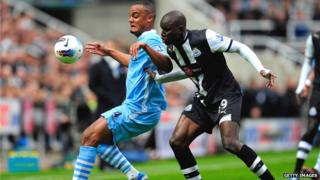 Getty Images
Manchester City beat Newcastle 2-0 to keep their table-top position secure, with just a week to go til the season's end.
Manchester United also won 2-0, against Swansea, to stay in second place.
The two sides are equal on points but City have a better goal difference, which means they are still on top.
Football fans and experts are now working out all the possible options for what happens on the final weekend of the season.
It gets complicated
For United to win the Premier League, they'd have to beat Sunderland - AND City would have to lose or draw against QPR.
But if City were to beat QPR, United would have to beat Sunderland with nine more goals to overturn their goal difference.
And that's pretty unlikely.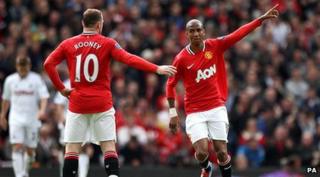 PA
'Not over yet'
Both United boss Alex Ferguson and City boss Roberto Mancini reckon the title race isn't over yet.
Mancini said: "It is not finished. It is important that we get three points next week. We need a big effort - there is one game more."
Ferguson says he will fight to the final whistle to reach for United's 20th title.
"We've won the title on three occasions on the last day and we don't mind doing it again," he said.
QPR also need to win against City to stay in the Premier League.