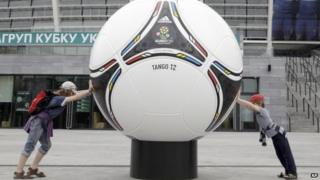 AP
There's a row developing over the Euro 2012 championships which take place this summer in Poland and Ukraine.
A number of European leaders say they're not happy with the way Ukraine's former Prime Minister is being treated.
Yulia Tymoshenko has been put in prison and says she's been beaten up.
The leaders of Austria and Germany say they won't go to the Euros in protest and British politicians might pull out as well.
All of England's group games will be in Ukraine.
The Ukraine government are not happy and said the move would be bad for the tournament.