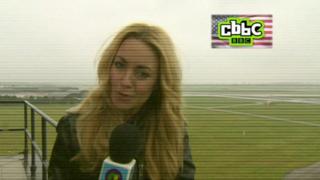 The Little bit of USA in the UK
When Hayley heard she'd be visiting a little bit of the USA for Newsround - boy, was she excited!
Sadly for her, this small bit of America is in Suffolk....but she was still excited.
That's because this RAF airbase in Lakenheath is amazing!
It's built just to be like America - with US cars, shops, schools and even cars! It's all to make sure the 4,500 service men and women who work there don't get homesick.
You have to check this out....