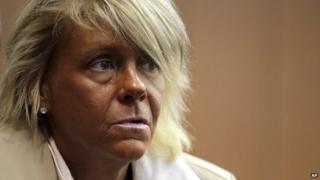 AP
A mum has appeared in court in America accused of letting her young daughter use a sunbed.
Patricia Krentcil is accused of letting her 5-year-old daughter use the bed to get a tan.
But in court Patricia said she didn't and that she wouldn't put her daughter in danger.
Authorities say it would be dangerous for someone so young to use a sunbed and it could damage her skin.
People became concerned about Mrs Krantcil's daughter when she arrived at school with what looked like sunburn.
The school nurse called the authorities and said the 5-year-old might have been allowed to use a sunbed by her mum.
Mrs Krentcil lives in New Jersey, one of lots of states in America where it's illegal to let anyone under the age of 14 use a machine to get a tan.