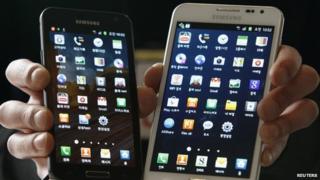 Reuters
Gadget fans will soon be able to get their hands on the new Samsung Galaxy smartphone, which is being launched in London on 7pm on 3 May.
Samsung hasn't revealed much about its new handset, not even the name.
But they have said it will use less energy, be faster than the current version and have better quality video recording. It won't however include a 3D display.
The current Galaxy S2 has sold more than 20 million copies.
Experts say its success helped the company overtake Nokia to become the world's best-selling mobile phone maker.