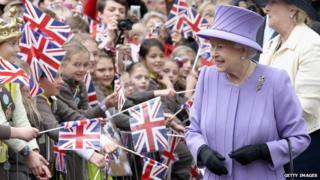 Getty Images
A special version of the national anthem has been written to celebrate the Queen's Diamond Jubilee.
The one off special features different words but the same tune and will be performed for the first time in Bournemouth on Wednesday.
It will be sung by Roger Brooks, the man who wrote it, and a choir of 80 people all dressed in red, white and blue.
Buckingham Palace have told Mr Brooks they have seen his new lyrics!
The new words came about after the Roger noticed people weren't really singing along to the traditional national anthem.
He also wanted to make a special version that would mark the 60 years the Queen has been on the throne.
He said: "I thought we ought to mark the special occasion with special words. There is nothing reflecting the marvellous job the Queen has done, and so I've written words to show her how we all feel".
Called 'The Diamond Anthem' the newer song starts with the words: "And now we celebrate / Six dutiful decades / God save the Queen / Symbol of unity / Service and dignity / Our grateful thanks we offer thee / God save the Queen"