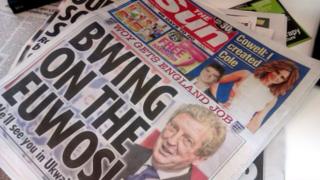 News International
The FA say a Sun newspaper headline that pokes fun at the way England boss Roy Hodgson speaks is "unacceptable."
Hodgson pronounces the letter 'r' more like a 'w' and on Wednesday the paper printed the headline "Bwing on the Euwos!"
It led to some people accusing the paper of bullying and the FA say they've contacted The Sun to complain.
FA Chairman David Bernstein said it was "In poor taste and disrespectful."
Other famous figures have also condemned the newspaper for making fun of the same speech impediment that affects TV star Jonathan Ross.
Everton footballer, Phil Nevile said: "Have you seen front page of The Sun? Disgraceful journalism - what chance have we got!"
And BBC Sport presenter Jake Humphrey added: "I think today's headline in The Sun is offensive".
The Press Complaints Commission, the people who monitor the behaviour of newspapers, say they've received a large number of complaints.
A statement from the FA added: "On this occasion, we will not be making an official complaint to the PCC but we have raised it with the newspaper and made it clear that their front page is unacceptable to us."
One of the UK's leading children's speech charities, I Can, have also called The Sun's approach into question.
A spokesman for the charity said: "We know that children with communication difficulties are often at risk of bullying. Therefore it is disappointing to see that Roy Hodgson's speech has been singled out in the mainstream media for entertainment value".
Newsround contacted The Sun to ask for a response but they declined to comment.