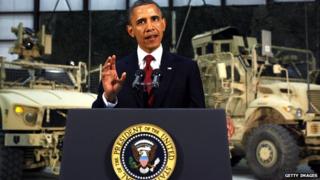 Obama says war is to end
US President Barack Obama has pledged to "finish the job" and end his country's war in Afghanistan.
Speaking a year after the death of notorious terrorist leader Osama Bin Laden, Mr Obama thanked US troops.
He arrived in Afghanistan on a secretly-arranged visit to meet Afghan President Hamid Karzai.
Mr Obama said "we must finish the job we started in Afghanistan, and end this war responsibly."
But soon after his speech, seven people died in another attack in the capital Kabul.
The terroist group called the Taliban said they carried out the attack.