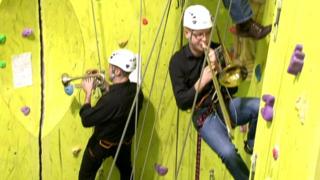 student orchestra halfway up a wall
A student orchestra from Lancaster have started to perform in very unusual places!
They're rehearsing for a performance at a golf tournament in the summer when they'll be performing inside high buildings.
They say they need to practice in unusual places which are high up, like an indoor climbing centre.
So they've put on hard hats and climbing ropes, and let the cameras film them playing the James Bond theme tune.