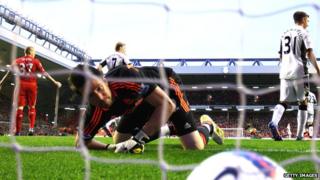 Getty Images
Own-goals led to a first ever win for Fulham at Liverpool and a draw for Everton at Stoke, on Tuesday.
At Anfield, Fulham went ahead after five minutes when the ball bounced off Liverpool's Martin Skrtel and into the net.
It was enough for Fulham to win. But it didn't look good for the Reds ahead of their FA Cup Final on Saturday.
Everton held Stoke 1-1 at the Britannia after another own-goal - by Peter Crouch.