Rupert Murdoch, the man who controls a big chunk of what we read and watch, "is not a fit person" to run a company, according to a report from a group of MPs.
Murdoch's the billionaire boss of News Corp, the huge media company behind The Sun newspaper, part of Sky TV, The Simpsons and more.
His Sunday newspaper, the News of the World, closed down last year over claims it hacked into people's voicemail messages.
The MPs interviewed journalists, police and lawyers of the phone hacking victims and have decided the 81-year-old ignored what was going on.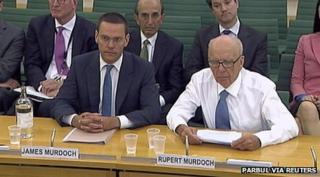 Parbul via reuters
Their report will be very damaging to Murdoch's reputation and possibly his businesses.
News Corp said it would be looking at the report. It said the company agreed the News of the World did badly and "apologises to everyone whose privacy was invaded".