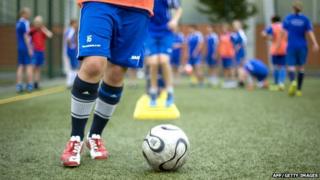 AFP/getty images
Half of all girls are put off exercise because of the way PE is taught in school, a new report says.
The study claims many girls find sport too competitive, don't enjoy getting sweaty and dislike the sports on offer.
It says most girls aren't doing enough exercise and should be allowed to do activities like dance or roller skating instead of traditional sports.
The authors also think schools should celebrate 'taking part' just as much as winning.
1,500 UK school children were surveyed in the research from the Women's Sport and Fitness Foundation, a charity that campaigns to get girls more active.
It also found that girls become less active than boys as they get older.
What you think
We wanted your thoughts on this. Are you put off exercise because of your school PE lessons? What could make them better? Or maybe you love doing sport and don't understand what the fuss is about? Here's a selection of your comments:
"I am certanly NOT put off sport because of PE. PE has made me more active. I now do hockey, athletics and judo every week. I will also not be put off sport when I get older. I think it would be cool if PE was made more fun because it would get kids active at a young age."
Grace, Dundee, Scotland
"I love sports it's a fantastic way to keep fit. I like being competitive to prove to boys that girls can beat them."
Georgina, England
"I love PE lessons and I also love playing football at breaktimes. So do some other girls in my class."
Hannah, Rochdale, England
"In my school lots of girls are sporty! There are horse riders, swimmers, runners, gymnasts, all of which are girls! I'm a swimmer too!"
Jasmine, Scotland
"I think everyone should say what sports they want to do in PE Personally I love PE lessons because everyone works together and there no one is mean."
Molly, Reading, England
"We have two P.E lessons at school, one (outdoor) and one (indoor). The topic changes every term for outdoor and indoor. Like last term we had dancing and some of the boys didn't enjoy it but they made it through the term and some of them really enjoyed it (especially when it was time o do hip-hop dancing!)."
Simran, Essex, England
"I'm put off PE because all we ever do is dance and gymnastics and the lads are always playing footie and rugby. It would be nice if we got a say in what we do."
Becca, Barnsley, England
"I think we should do different sports that most people won't have done. Maybe we could go out of school and do things like rock climbing and cycling to make it more interesting."
Olivia, Salford, England
"I think PE can't be more fun for me because we do do fun warm ups and girls and boys do it together."
Sarah, Manchester, England
"I HATE PE because my class always argue afterwords. I wish PE was optional or we could sit out if we had an injury."
Isobel, London, England
"I love PE and I'm in the football, netball and athletics team. Our school won the Girls Football Surrey Cup AND Primary Sports School of the Year. I'm sportier then most of the boys in my class and I think PE is fine the way it is."
Hannah, London, England
"I hate PE BECAUSE we do dance! I also dislike being split into boy/girl groups. At our school they assume girls will love dance and boys will love football. I would much rather be outside playing rugby, football, or basketball than stuck inside doing dance. And I know loads of my friends who feel the same way."
Lucy Bell, Tyne and Wear, England
"I think girls should get to do more boy's sports - in my school me and my friends are trying to set up a girl's rugby club!"
Lauren, England
"I love PE, it's fun and the girls and the boys all get a go at everything, but it might be because my PE teacher is so nice!"
Ishbel, Edinburgh, Scotland
"It's the PE teachers who are boring not the lesson."
Jeni, London, England
"I think that the boys are always doing everything and the girls just get told off for not being involved. We should do more girls sports rather than mainly boys."
Mieke, Ipswich, England
"I love Hockey. When we change and to do Cricket and Athletics I always feel sad because I'm not good at either of these sports. I wish we could do more different sports because they all seem to be for boys."
Aimee, Cornwall, England
"I prefer PE to the other lessons because I can play football which is my favourite sport."
Claudia,Jakarta, Indonesia
"I really enjoy PE lessons at my school and we do a variety of different sports each term. We do dance as one of them. My class is really competitive but the girls are definitely more so."
Millie, Moscow, Russia
"I love PE because it gives my body a wake up call and my teacher tries her best to make it fun. Our school PE lessons are fantastic and my school encourages girls and boys. In my class our topic in PE is gymnastics and I'm loving it!
Amelia, London, England
"I don't like PE because nearly all of the PE lessons are for boys. I wish there could be more girl lessons instead of boy lessons. I would like roller-skating and dancing."
Aaliyah, London, England
"I like PE because we don't do only traditional sports and you only play if you want to. Sometimes boys and girls play together sometimes separate."
Ster, Brazil
"I attend an all girls school and there is a group of girls that are really sporty but the rest of us hate it. The teachers do try to make it as accommodating as possible but the bit I hate the most is that you are rushed when you get changed and you get all hot and sweaty."
Becca, England
"I don't think that's true because girls do lots of activities like dancing, Brownies, Guides, ice-skating and much more."
Courtney, Scotland
"That is so untrue! We do a lot of exercise and we are fine! We hate maths but we are still really good at sports! One of us horse rides and one of us swims and we are both ultra sporty! That is kind of sexist that boys are more sporty because I know some really unfit and un-sporty boys!"
Catherine and Lily, London, England
"PE is not as fun as doing sports after school. As the teachers sometimes push you too far instead of cheering you on. The sports are always the same as well, they should do more gym and have a mixture."
Georgina, Aylesbury, England
"PE is not fair. In every sport, the boys hog the ball until the PE teacher tells them to pass to the girls. They never pass! The only sports that are exciting and fun to play are dodgeball (because the girls are always there at the end)."
Anne, Vietnam
"I think PE is more for boys. At my school we're always doing rugby and cricket. Only a few girls in my class enjoy cricket and rugby. I think that schools should introduce more exciting activities that will make girls more interested in sports and not just boys.
Mollie, Somerset, England
"I'm really good at football but no boys pass me the ball and I'm the one left out!"
Jasmine, Manchester, England
"I think PE can be improved by having a big trampoline and a climbing frame we can go on. We should be able to do roller skating and get teachers involved a little bit more."
Tamzin, London, England
"I am a lover of PE but I think it could be a bit better by adding a trampoline because trampolines makes children feel ecstatic."
Megan, London, England
"I'm put off by PE because boys are too competitive. Sometimes I'm put off by boys being aggressive and mean. I also think PE could be improved so we can have our own class trampoline!"
Ishrat, Newham, England
"I like PE because it's sport. It could be improved by doing something like dodgeball, it would be more fun if you do that."
Ben, London, England
"PE was rubbish in primary school. When playing football all the boys would pass to each other and the girls would do nothing!"
Ella, England
"I LOVE PE at school. Maybe it's because I'm very competitive."
Joanne, East Sussex, England
"Whenever we play team games all the boys hog the ball and never give it to the girls!"
Megan, Falkirk, Scotland
"Now that I go to an all girls school PE is much more enjoyable as we are put in sets. I find this better as if you're not very good then there are other students like you."
Amy, England
"At our school boys and girls have PE split so we have all the girls' sports and don't play football. We also get a lady teacher."
Louise, Manchester, England
"I like competitive sports but I like the idea of roller-skating. The only problem is, I'm not allowed to roller-skate!"
Catherine, Colchester, England
"I hate PE. I find it too competitive and no fun. I would love PE if it was rollerblading."
Gaby, England
"We split into boys and girls. The boys do football and girls do netball. Thankfully girls still get to do contact rugby which is great fun!"
Erin, Bedfordshire, England
"At our school the boys do running, but us girls only do swimming and rounders. When it rains we go inside and do gymnastics or just dance... and it's fun, but I agree that boys get more exercise than us girls. "
Courtney, Bishop Auckland, England
"The only reason why girls are not doing sports is because there is more to do when you're younger."
Katie, Suffolk, England
"On a Wednesday we all do dance. We have a girls hockey team, girls football team and girls rugby team. I don't understand why people are complaining."
Harry, Bradford-on-Avon, England
"PE at my school is rubbish! Our teacher is so unathletic so the boys always do everything whilst the girls just wait at the sidelines, unfair!"
Lucy, England
"We don't like getting sweaty because it's gross."
Julia, Surrey, England
"I don't mind getting a bit sweaty because I will always have a shower when I get home and I happen to be very competitive."
Nicola, Hampshire, England
"At my school only the boys are allowed to do rugby which most of the girls think is unfair as they enjoy the sport. "
Emily, Essex, England
"I LOVE sport. Even at home I'll be jumping on my trampoline one minute and be running up and down my garden the next. I just can't get enough of it!"
Rose, England
"It's not fair for PE teachers to get cross with a student because they don't run fast, or jump higher... it's about taking part, not winning."
Jessie, London, England
"I never like PE and I always get tired very quickly."
Christina, Inverness, Scotland
"I adore PE and I would do it every day. I do PE with the boys because they do rugby and football and sometimes athletics. The girls in my year do not like PE the same as me. I am a true tomboy."
Non, Wales
"We get PE three days running and all the girls dread (it) whereas the boys look forward to it. And also because most of the boys play football as a club afterwards the teacher favours them."
Nina, London, England
"Sometimes girls in my class hate it, maybe because they think it's too competitive and that boys think girls slow them down. I'd like to have a sport both sexes can be equally good at."
Ella, Leicestershire, England
"I love PE lessons but most of the girls don't. I think this is because they don't like doing exercise! I think this could be prevented by doing more of the sports girls love such as gymnastics."
Tom, England
"I like PE because it keeps you fit and healthy. And at our school the girls are more competitive than the boys!"
Emily, Northumberland, England
"I love PE and enjoy playing with the boys and I don't care if they are competitive because it makes it more fun."
Ashleigh, Essex, England
"I hate PE because it is wasted on running laps around the field and do warm-ups. I wish we can do some skating."
Georgina, London, England
"It doesn't really matter at my school. We all do gymnastics and we pair up with friends and everyone's happy."
Julia, Sunderland, England
"We are a sports college, we have different options for PE, and students are able to decide for themselves what activity they would like to do."
Name: Class 10 C, Preston, England
"What's the big deal? Literacy and maths aren't competitive enough for boys to enjoy and no one is doing anything about that."
Ben, London, England