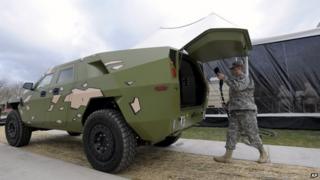 AP
The US Army has developed a fuel-saving vehicle that doubles up as a power generator.
The FED Bravo is able to get electricity to soldiers in remote places where power isn't easily available.
It works by plugging into a micro grid - that's a network of small generators in a community that can supply power to military bases.
The vehicle that's been unveiled is a model so it's not being made yet.
A group of 18 university students worked with the US Army to design the the FED Bravo.
Its full name is the Fuel Efficient ground vehicle Demonstrator Bravo!