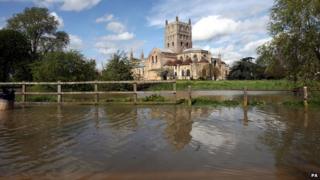 PA
Last month was the wettest April in the UK since records began, more than 100 years ago.
There are warnings of floods across England after record amounts of rain.
Almost three times the usual amount of water fell last month, meaning lots of areas are at risk of flooding, especially if more rain falls on Monday night.
Areas of the south of England like Somerset, Dorset and Devon are most at risk and are on high alert for floods.
What makes the very wet April so surprising is that March was the fifth driest on record.
Liscombe, on Exmoor in Somerset, was the wettest area of the UK in April.
But in Scotland, it was a different story - with some areas being drier than usual!
Skye in Scotland had just over half the amount of rain it would usually expect that month.