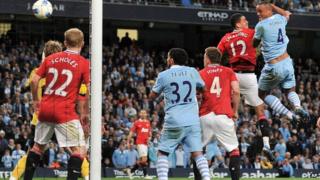 AP
Manchester City have beaten Manchester United in one of most important local derbies in the Premier League's history.
The 1-0 win means the Blues are now top of the league and favourites to win the title.
Defender Vincent Kompany's header was all that was needed for Roberto Mancini's team.
With only two games left, City are top of the league on goal difference and if they win their last two games they win the league.
Before the match, some people were talking of this being the biggest match in the history of the Premier League.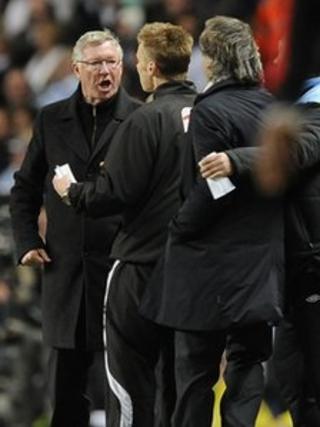 Reuters
Three weeks ago, Sir Alex Ferguson's team were eight points clear at the top of the table but City had managed to claw back that to three before kick off.
If United were desperate to win, they didn't show it.
The team in red didn't record a single shot on target in the whole 90 minutes!
Early in the game, striker Sergio Aguero led the way for home team, going close a few times.
But it was just before half time that Vincent Kompany towered above Chris Smalling to score the all important goal.
The noise that came from the home fans at that moment will be remembered at the Etihad stadium for quite some time, as City fans knew their team had stepped a little bit closer to their first ever Premier League title.
After the break, it was nervous stuff, with the big action coming off the pitch!
Reds boss Sir Alex Ferguson and Blues boss Roberto Mancini had a real argument on the sidelines late in the game.
The United manager could shout all he liked though - his team walked away with no points.
The title race isn't quite decided though, Man City still have a tough away match against Newcastle to win if they want to be champions.
City's last games of the season
Newcastle v Man City
Man City v QPR
United's last games of the season
Man United v Swansea
Sunderland v Man United