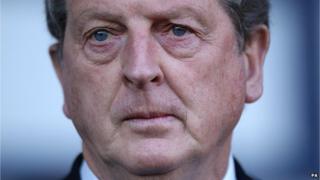 PA
Roy Hodgson is expected to be made manager of England in the next few days - but who is the bloke taking over the biggest job in footy?
It's taken a while, but slowly and surely Hodgson has risen to be one of the most respected managers in the Premier League. It all started much lower down though for Roy. He began as manager of Halmstads, a little known Swedish team 36 years ago.
Since then he's climbed to be the number one contender to manage the best players England has to offer. He's also had some hit and miss experiences along the way.
His first job in England was as manager of Bristol City, where he was sacked after only four months and some bad results.
Then, in 1998, he was sacked as manager of Blackburn Rovers with the club bottom of the Premier League.
Perhaps the lowest point for Roy was when he lost his job as Liverpool manager last year. He won only 13 of his 31 games in charge of the Reds.
But he has enjoyed some good times too.
Heard of a massive Italian club called Inter Milan? Well Roy was their manager back in the 1990s. He finished second in the league and took them to the final of the Uefa Cup (which is now the Europa League).
And speaking of the Europa League, he managed to get little old Fulham to the final in 2010 - which no one predicted!
Hodgson has also got loads of experience managing international teams, and maybe that's what the FA like.
He's been in charge of Finland and the United Arab Emirates and he reached the last 16 of the World Cup with Switzerland in 1994. Two years later he led the Swiss out at Wembley as they drew 1-1 with England in the opening game of Euro '96.
Roy has had some great results in the league as well.
He guided Blackburn to a sixth place finish in the Premier League the season before he was sacked. He took Fulham to seventh and current team West Brom are sitting in eleventh.
But while he's been successful at making smaller teams much better than they should be some people have been critical of Hodgson's style of play.
His teams are super-organised but some say that's boring and that really talented players get a bit frustrated when they can't play with freedom.
Whether his methods will work with some of the big players in the England squad, only time will tell.