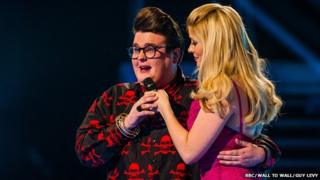 BBC/Wall To Wall/Guy Levy
Sam Buttery and Sophie Griffin have become the first contestants to leave The Voice live shows.
Coaches Tom Jones and Will.i.am both had to choose between the two singers in their team with the lowest number of votes.
Sam lost out to duo Matt & Sueleen, while Sophie was given the chop over Joelle Moses.
Sam praised his coach: "I've just loved working with Tom, he's just been amazing."
He went on to admit: "It feels like my heart has been ripped out. But I'm still happy, a little bit."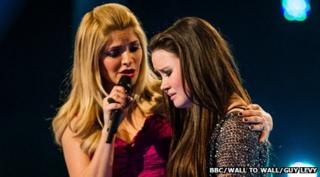 BBC/wall to wall/guy levy
17-year-old Sophie, the youngest female in the competition, said: "This has been the best experience of my whole entire life."
Jessie J and Danny O'Donoghue's final five singers will battle it out next week.
Tune in to Newsround at 8:15am on Mondays when we hope to interview the latest acts to leave The Voice!