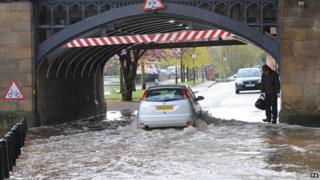 PA
Heavy rain and strong winds have brought down trees and power lines across England and Wales.
Thousands of homes in south Wales and southern England have been left without power.
More wet weather is expected, with flood warnings issued across many parts of England.
There's been so much rain this month that it could turn out to be the wettest April on record.
In some areas, there's been nearly double the average rainfall for April.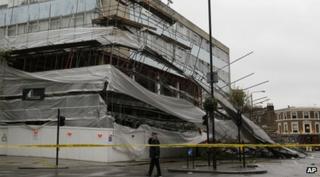 AP
Environment officials are keeping an eye on river levels and working to cut the risk of flooding.
As of Monday morning, around 30 areas in England and Wales are on flood warnings, while more than 150 places are on flood alert.
The River Ouse in Yorkshire is almost three metres higher than normal summer levels.
The wet weather has come as much of the country is suffering from drought.
But the Environment Agency says the rainfall hasn't made a big difference to the water shortages.