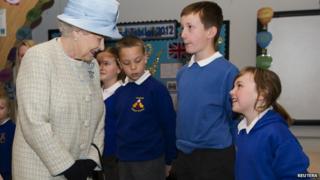 Queen returns to landslide village
As part of her Jubilee tour of Wales, the Queen has returned to Aberfan - a Welsh village devastated by a landslide disaster in 1966.
116 children died when a pile of spoil from a coal mine slid down a hill and swamped their school.
Spoil is the waste earth and stone that's dug up when coal is mined.
The tragedy shocked the world and the Queen has visited the community four times since the disaster.
Watch Leah's report to find out what happened at Aberfan in 1966.