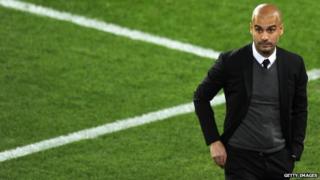 Getty Images
He's spent years creating what many people call the greatest football team on the planet, but Barcelona boss Pep Guardiola is packing it all in.
He announced his intention to leave the club on Friday, saying he will take a year's break from the game.
"The reason is simple: four years is enough," said Guardiola.
"I'm drained and I need to fill up. The demand has been very high and a manager must be strong."
The decision tops off a terrible week for Barcelona, losing to arch rivals Real Madrid and crashing out of the Champions League semi-final aginst Chelsea.
Pep added: "I want to thank my players who are responsible for everything that has happened here. I don't want to manage at the moment."