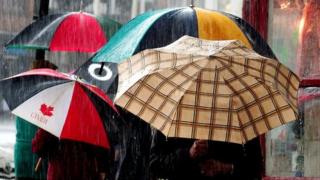 PA
A month's worth of rain is due to fall in some areas of the UK over the next week.
That means areas suffering from drought conditions could now face floods.
In some areas, up to 50 mm of rain fell during Tuesday night and Wednesday morning, triggering 46 flood alerts across the UK.
Weather experts say the rain will really help out plants and rivers but water companies say it's unlikely to be enough to fill the reservoirs.
That means hosepipe bans will stay in place in some parts of the country.
The Department for Environment, Food and Rural Affairs said, "While we welcome the rain we have received over the past week, we still need everyone to save water where they can."