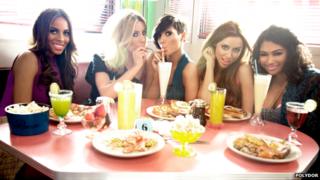 Polydor
The Saturdays have just announced they're trying to crack America with a new reality show but they've still got music lined up for their UK fans too.
They've moved on from their last album, "On Your Radar" and are releasing a new song but will "30 Days" give them their overdue first number one single?
The style
30 Days is sure to fill the dance floor with its echoing beats.
The chorus makes you want to throw your arms up and there's a brilliant drum fill after each verse which one music journalist said sounds like "A potato being thrown in a bin".
The vocals are shared evenly between the girls and sound moody, although they've been edited a bit too much and some emotion and personality has gone.
It's a shame because we know all the girls are great vocalists.
Will you still be humming it next week?
The song has some really catchy parts such as the "ooh woah oh" bit after each line in the chorus.
The melody is quite simple and you're sure to want to join in with Vanessa's belting vocals.
However, it is quite similar to some of the material on their last album which didn't do very well.
Will it make the charts?
The girls have a lot of fans, so the song will probably make the top 10, but it might be unlikely to hit the top spot.
When's it out?
30 Days is out on 13 May.
NR rating: 4 out of 5