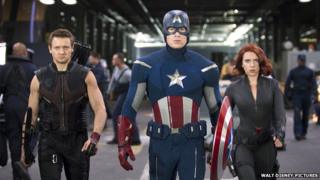 Walt disney pictures
Avengers Assemble is a superhero action movie with one of the biggest team-ups in cinema history.
The movie sees famous comic book characters Iron Man, The Hulk, Captain America and Thor joining forces alongside two new heroes called Hawkeye and Black Widow.
It's taken years to get it filmed and the movie studio had to make 4 movies before it just to get audiences familiar with each character.
When's it out?
It's in cinemas right now (12A).
The plot
Loki, the evil brother of the superhero Thor is determined to take over Earth.
He steals a special item that could help him destroy the world and recruits an army of aliens to attack Earth, so the US government recruit all the superheroes they can find to fight back.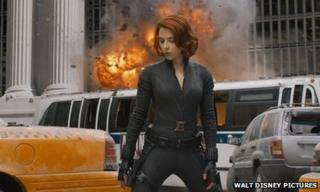 Walt disney pictures
The stars
If you've been watching any superhero films in the last few years, you'll recognise almost everyone!
Iron Man is played by the very cheeky and funny Robert Downey Junior and another name you'll recognise is Samuel L Jackson who is in loads of movies like Star Wars and The Incredibles.
Hit or miss?
Hit! A lot of superhero fans were worried about this movie being a bit messy and confusing with so many heroes on the big screen at once.
The story is definitely a bit confusing and silly at times but the action and fight scenes are amazing. The superheroes don't get on at first and it's really cool to see them arguing and fighting it out!
The best thing about the film is how funny it is - Iron Man cracks some really good jokes!
NR Rating: 5 stars!