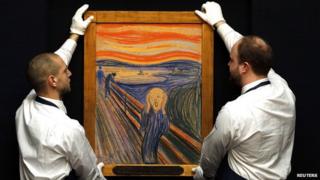 Reuters
Edvard Munch's The Scream has sold for $119.9m (£74m) in New York, making it the most expensive art work ever to be auctioned.
Seven people were bidding for the world famous artwork at Sotherby's auction house but it was finally snapped up by a bidder over the phone. The crowd were so impressed, they clapped after the sale.
Munch made three other versions but this pastel piece is special as he wrote a poem on the frame, explaining his inspiration for the piece.
Art expert Michael Frahm said, "Together with the Mona Lisa, it's the most famous and recognised image in art history,"
Two of the other versions of The Scream were stolen in 1994 and 2004. Both were later found and put back on exhibition.