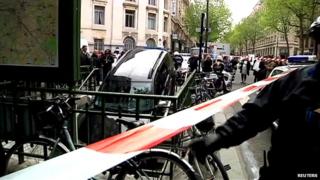 Man traps car on station steps
A confused driver has ended up trapping his car on the steps of an underground station in the French capital of Paris.
Apparently he mistook it for the entrance to a car park. He managed to brake in time to stop the vehicle, leaving the back wheels sticking out.
"There's a sign saying 'Haussmann Parking' right in front... I made a mistake," the driver told journalists.
No-one was hurt, but the scene drew plenty of crowds and cameras!