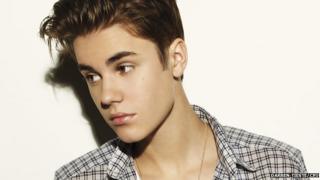 Darren tieste/cpi
Justin says he's written or co-written "about 40 songs" for his third album "Believe" which is out on 18 June.
Hopefully, not all 40 tracks will be on the album though, or we're in for a very long listen!
Newsbeat's entertainment reporter, Natalie Jamieson, got to listen to six of the songs at a special preview event.
The style
Justin said he wanted to do a "more mature" album this time. He's 18 years old now and growing up, so there's a mix of styles and influences.
He's recorded tracks with Kanye West, Drake and Taylor Swift.
The hits
Fans have already latched on to "Boyfriend", so they'll adore "Believe", the title track.
Justin says he wrote that one for his fans to show "how they inspire me".
The chorus goes, "Where would I be if you didn't believe?" and a gospel choir comes in half way through for added emotion.
That's one way to keep your fans happy Justin!
The misses
Beliebers will buy this album anyway but there's such a mix of styles it could put some people off.
"Be All Right" is a gentle track with just Justin and a guitar but then there's a dance anthem, "All Around the World" featuring Ludacris.
There's also a more poppy sounding song called "Thought of You", produced by Diplo.
Chart-topper or bargain bin?
Justin feels like he's got something to prove with this album and his passion is clear in how much he tweets about his work.
The tracks I heard were unfinished, so there's some way to go yet but it all sounds very promising.
NR rating: 3 out of 5