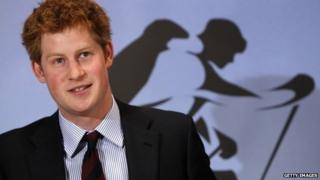 Getty Images
Prince Harry is to receive an award to celebrate all the charity work he's done to support service men and women.
Harry and William have been awarded the Distinguished Humanitarian Leadership award and Prince Harry will accept the honour on behalf of both of them.
The princes help many charities and set up the Foundation of Prince William and Prince Harry in September 2009.
Harry will have to travel to Washington DC to collect his award in May.
A number of charities and organisations receive support from the princess both in Britain and abroad.
As well as supporting those people who've been in the armed forces, they also work with charities who look after young disadvantaged people and those that help the environment.
And in March 2011, Prince Harry even joined four injured servicemen during a mission to trek 200 miles across the polar ice cap to the North Pole.