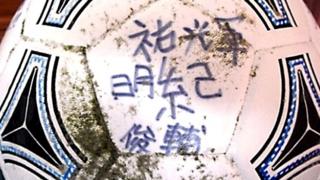 AP
Teenager Misaki Murakami will be reunited with his football after it bobbed its way across the Pacific Ocean during the Japanese tsunami last year.
The ball had his name written on it and was spotted by beachcomber David Baxter on Middleton Island.
David's Japanese wife Yumi talked with Misaki over the phone.
Misaki said, "It was a big surprise. I've never imagined that my ball has reached Alaska. I'm delighted."
The tsunami devastated Miskai's town of Rikuzentakata when it struck the north-eastern coast of Japan on March 11 last year.
The ball will be sent back to Miskai soon.