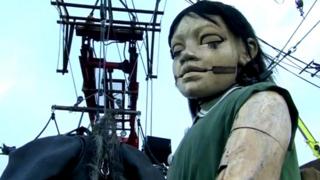 Huge puppets in Liverpool
Three massive puppets have been roaming the streets of Liverpool.
They've been made by expert artists in France, and brought to Liverpool for a three-day festival.
It's all to mark 100 years since the sinking of the famous cruise ship the Titanic.
The puppets include a giant 'little girl', a dog, and a massive elephant.
Watch Ricky's report to find out more.