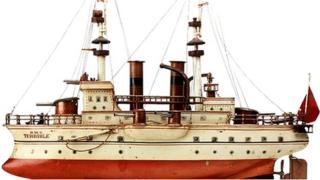 Newbury Auctioneers
A 107-year-old toy battleship, with its own steam engine inside, has been sold for £76,000, making it probably the most expensive toy in Britain.
The model of HMS Terrible is from the lifetime collection of Ron McCrindell, who used to have his own TV show.
Every single toy in the collection - around 500 - was sold in Friday's auction.
With total sales of £284,552, it was a rare "white glove sale" which means every item was sold.
In his TV show 40 years ago, Mr McCrindell sailed the battleship on Hampstead Ponds in north London.
He died in August 2011 aged 91.
The model of HMS Terrible was made in Germany in 1905.