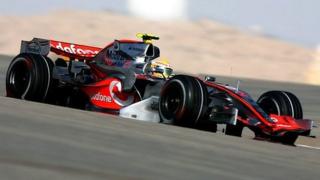 Bahrain violence ahead of F1 race
Formula 1 bosses say the Bahrain race will take place in the Middle Eastern kingdom over the weekend, despite the violence.
Bahraini security forces have used stun grenades and rubber bullets to break up crowds in the capital, Manama, demonstrating against the government.
F1 drivers from all around the world are in Bahrain ahead of the race and last night, one of the teams got caught up in a fire bomb attack, though no one was hurt.
People protesting for more freedom in Bahrain say they don't want the race to take place because it supports the government.
Demonstrators know the Grand Prix will be watched all around the world, so they want to show people everywhere how unhappy they are with the way the Al Khalifa family run the country.
Last year's race was cancelled after at least 35 people were killed during a crackdown on anti-government protests.
The trouble is similar to the uprisings that have been happening in neighbouring countries like Syria, Egypt and Libya.
More news stories