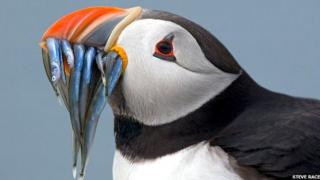 Seabirds at risk Joe finds out why
Experts from the bird charity RSPB say some of the UK's most impressive seabirds could be disappearing from England's coastline.
They say climate change is to blame - the birds need fish for their food, and the fish are staying in colder seas further north of Britain.
To work out what's really happening, researchers are starting a massive count at one of Britain's most important homes to seabirds - Bempton Cliffs in East Yorkshire.
Bempton Cliffs is the biggest mainland colony for birds in England. Around 200,000 seabirds flock there, but the experts are seeing a decline in numbers of several species including the puffin.
Watch Joe's report to find out more.