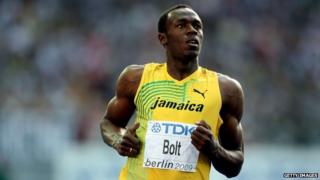 Getty Images
Usain Bolt wants to "amaze" the world at London 2012 by smashing his own world records in the 100 metres and 200 metres sprints.
He's already the reigning Olympic champion and world record holder over both distances, with times of 9.58 seconds and 19.19 seconds.
But now he wants to run the 100m in just 9.4 seconds and the 200m in 19 seconds flat.
That would mean running 10 metres, 63 centimetres every second!
He said, "I'm working as hard as possible so I can go as fast as possible. If I dominate the Olympics, I'll be a living legend. A living legend walking around. Sounds good."