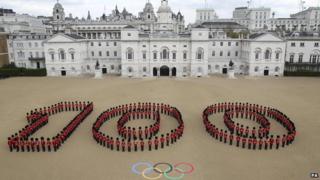 PA
In just 100 days time the London Olympic Games will officially begin.
The motto for the games has been revealed - "Inspire a Generation" - and events are being held to mark the countdown to the opening ceremony.
10,500 athletes, 21,000 media people and 8.8 million ticket-holders will be arriving in the capital for the biggest sporting event on the planet.
But despite all the excitement, there is still a lot to be done.
In Horse Guards Parade, home of the beach volleyball, 3,000 tonnes of sand need to be dumped and 15,000 temporary seats put up.
A further 200,000 temporary seats and 10,000 portable toilets need to be installed around the city.
Building work is also taking place in Greenwich Park, where the equestrian events will be taking place.
There are still around 1.5 million remaining football tickets and 1 million Paralympics tickets to be sold too.
Although there are lots of people who are really looking forward to the Olympics coming to Great Britain, a BBC survey revealed that 64% of people think that it has already cost too much money.
What did you think?
The Olympic motto is "Inspire a Generation" so we asked how much have you been inspired by the Olympics coming to London?
Your comments
"I'm not really excited about the Olympics. I enjoy watching it on TV but I just think that it's costing too much. I suppose it might bring local businesses money because of the tourists but will they come back? I know there are good and bad points about it but personally, I'm not for it."
Rachael, Scotland
"It's inspired me very much! And it's in our home country too!"
Sadie, Merseyside, England
"I think the Olympic Games will be amazing but I think it has cost the country too much."
Stella, Cumbria, England
"I am completely mad about the Olympics. I am sooo looking forward to it. I can't wait!"
Non, Carmarthenshire, Wales
"Previously, I haven't been too interested in the Olympics but now it's coming to London I can't wait! It's inspired me to focus more on my swimming, aim high, and go for gold."
James Jack, Hertfordshire, England
"I can't wait for the Olympics because I might have a chance to be involved in the opening ceremony!
Jackie, Hertfordshire, England
"I think it's amazing. This is once in a lifetime opportunity for this generation. Who knows when the next Olympics will be held in Britain, so let's make the most of it."
Ifrah, Lancashire, England
"The Olympics are really cool and I'm soooo excited. I think it's inspired me to try to follow my dream of playing badminton or running in the games of 2020 and coming home with a gold medal."
Alexa, Sandhurst
"I have always watched Olympics Games on TV and this time I will be able to watch it live becouse I will travel to London to watch it."
Azra, United States