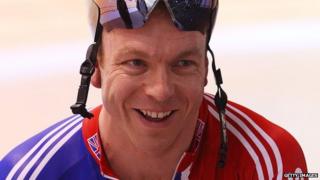 Getty Images
British cycling star, Sir Chris Hoy's first bicycle was a girl's bike, his mum has revealed.
Mrs Hoy said: "His first ever bike was a girl's bike, handed over by a neighbour.
"I don't think he realised it was a girl's bike at the time. He managed to break that very quickly which perhaps meant he'd like a new one."
Chris has won four Olympic gold medals and is one of Britain's big hopes for the 2012 Olympic Games.
But his mum still says it seems "mad" that Chris earns his living by riding a bike, though she is very proud of him!