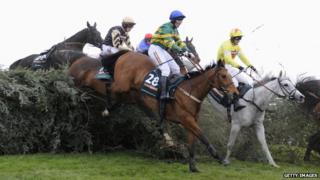 Getty Images
The animal charity, the RSPCA, wants organisers of the Grand National to make the race safer for horses.
This year, two horses died after falling at fences and the charity think that isn't fair.
The Grand National is famous around the world and is known for being really tough for horses and jockeys.
Neptune Collonges won this race in an amazing finish that was so close it had to be decided by a photograph!
The grey horse was neck and neck with Sunnyhillboy until the very end but just managed to stick his nose out to win it at the last moment.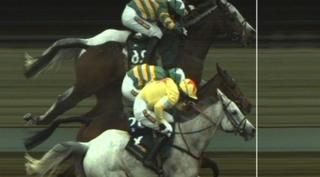 The grand national
Katie Walsh, who was trying to become the first woman to win the race came third.
Finishes like that mean people love to watch the Grand National - because it's so tough it's always exciting for racing fans.
The course is a massive four miles and involves jumping 30 really hard fences.
10 horses have died in the race in the last 12 years and the RSPCA say that needs to change.
Last year, organisers made some of the fences and drops shorter but some people say more needs to be done.
Some people in horse racing say that the sport is always going to be dangerous and that its difficulty is part of what makes it popular.