Reuters
Chelsea and Liverpool are through to the FA Cup final after winning their semi finals at Wembley.
Chelsea thrashed Tottenham 5-1 but everyone left the game talking about a goal that shouldn't have counted.
The referee awarded the Blue's second goal after a goalmouth scramble - even though the ball didn't cross the line.
Liverpool beat local rivals Everton 2-1 to win a showdown with the London team in the final.
Chelsea got off to a great start with Didier Drogba firing them into the lead just before half time.
But then came the goal that shouldn't have counted.
Juan Mata's shot was blocked before it reached the goal - but to the surprise of the Spurs players, the referee awarded a goal.
Chelsea then went on to score three more goals, but Tottenham manager Harry Redknapp reckons it was the referee's decision on the goal that affected his team.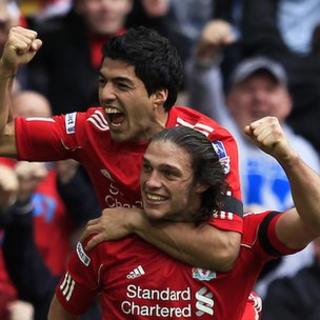 Reuters
"The referee has made a big mistake. He hasn't done it on purpose but I don't see how he could give the goal. It wasn't as if someone kicked it away and it all happened so quickly," said Harry.
"In the first half I felt we were the better team and that certainly didn't help although I'm not going to sit here and say that was the only reason."
The important decision brought up the argument about having cameras on the goal lines so referees can be sure if the ball has crossed the line.
The Spurs boss added "We need goal-line technology. It's got to come in. We can't keep having situations like this."
It was a much simpler game between Liverpool and Everton, with the Reds coming out on top.
Big money signing Andy Carroll scored the winner at Wembley.
Liverpool will take on Chelsea in the FA Cup final on the 5th May.